April 26th–30th, 2015 / Bucharest / Studio & Elvire Popesco Cinemas / the 4th Edition
Secret Police, Nelson Mandela and the Trash at Cannes – Eye on Films Selection at Cinepolitica
You are here

You are here:
Home > Secret Police, Nelson Mandela and the Trash at Cannes – Eye on Films Selection at Cinepolitica
Five intense films on topics such as the secret police, Nelson Mandela's years in prison, the consequences of consumerism and the interference of politics with personal lives will be screened at Cinepolitica International Film Festival, in the Panorama, in a subsection dedicated to Eye on Films.

Established in 2011, Eye on Films is a unique global network of film professionals which guarantees the circulation of productions by debuting filmmakers – at their 1st and/or 2nd feature film – in festivals, in cinemas, on television and other platforms. Developed with the support of the MEDIA Mundus program, Eye on Films is partnered with 46 festivals and 40 distributors. At Cinepolitica 2014 you will see five of the strongest recent films from their portfolio.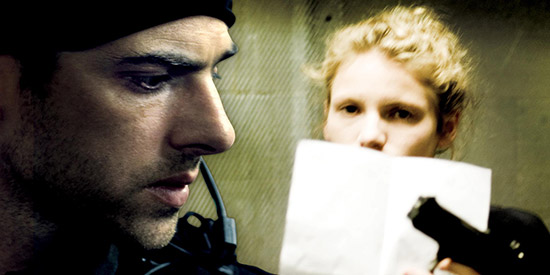 Selected in over 40 festivals and awarded the Special Jury Prize at Locarno in 2011, the thrilling Israeli film Policeman / Ha-shoter, directed by Nadav Lapid, explores the Arab-Israeli conflict. All the beliefs of a soldier from the Israeli elite anti-terrorism unit are shaken when he encounters a radical and extremely violent street group. "A boldly conceived and bracingly told political drama," according to The Hollywood Reporter, Policeman will be screened on Wednesday, April 9th, at 8pm, at Union Cinema. (trailer)

Also previously screened in a few dozen festivals was The Mole / Kret (Poland / France, 2011), by Rafael Lewandowski, included in the subsection Secret Police. On his way back from one of his regular business trips, a young man is shocked to discover his father's picture on the front page of a newspaper, with the headline "traitor" next to his name. A hero of the "Solidarnosc" labor movement, his father is suddenly accused of having acted as a secret informer. A media upheaval and an investigation simultaneously begin, in a country where important truths have yet to be told. (trailer)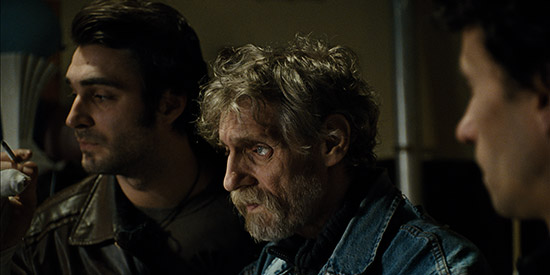 In the same subsection you will see another film on a similar topic, which was not included in the Eye on Films selection: Dear Betrayed Friends / Drága besúgott barátaim, by Sára Cserhalmi. In Hungary, two decades after the fall of the Communist regime, the network of ex-informers and lustration are still sensitive topics. The film addresses, without any prejudice, a delicate issue, on the relationship between those who reported and those who were reported. The two films will be screened on Thursday, April 10th, at Union Cinema.

"Sit down comfortably and watch Super Trash, you will live a bizarre experience: between the feeling of being drowned and wanting to get out alive," writes Libération about Super Trash, premiering at Cinepolitica. Director Martin Esposito has spent 18 months close to a huge landfill site next to Cannes – the one where the organizers dump an imperishable red carpet three times per day – in order to sound the alarm on consumerism. The film will be shown on Friday, April 11th, from 3pm, at Elvire Popesco Cinema. (trailer)

Plot for Peace, by Carlos Agulló and Mandy Jacobson, is a fascinating documentary which reveals the untold story behind Nelson Mandela's release from jail and the end of apartheid. For the first time ever, heads of state, generals, diplomats, master spies and fighters provide hidden details. Their improbable key to Mandela's prison cell was a mysterious French businessman, dubbed "Monsieur Jacques" in classified correspondence. See the film on Friday, April 11th, from 7pm, at Elvire Popesco Cinema. (trailer)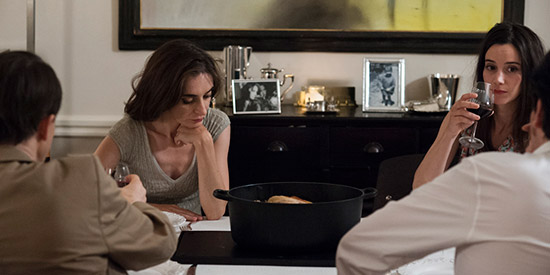 Politics follow us everywhere, even in bed – is the premise behind Left Over – Intimate Politics / Doutes – Chronique du sentiment politique, directed by Yamini Lila Kumar. The film follows the ways in which the intimate lives of two couples reflect the political climate in France, while also questioning their political choices and the way they change. On Saturday, April 12th, the drama can be seen at Elvire Popescu Cinema, from 2:30pm. (trailer)

Cinepolitica International Film Festival takes place between April 8th and 13th, at Studio, Elvire Popesco and Union cinemas in Bucharest. It is organized by the Association for Culture and Image and endorsed by the National University of Theatre and Film "I.L. Caragiale" (UNATC) and the National University of Arts (UNArte). The event is supported by the National Cinema Centre (CNC).

Partners: Bucharest General Municipality, Romanian Cultural Institute, National School of Political Science and Public Administration (SNSPA), Faculty of History of the Bucharest University, British Council, Embassy of the Federal Republic of Germany, French Institute Bucharest, Wallonie-Bruxelles Delegation, Austrian Cultural Forum, Polish Institute, Balassi Institute - Hungarian Institute in Bucharest, Embassy of the Republic of Armenia, Embassy of the Republic of Argentina, Czech Centre Bucharest, Cervantes Institute, Italian Institute for Culture "Vito Grasso", Romanian Filmmakers' Union, National Film Archive – Romanian Cinematheque.

Media partners: Radio Guerrilla, Observator Cultural, Ziarul Ring, Șapte Seri, Ziare.com, Hotnews.ro, CinemaRx.ro, Cinemagia.ro, Port.ro, Studentie.ro, Liternet.ro, Ziarul Metropolis, Getlokal.ro, Orasulm.eu, FilmReporter.ro, Casa Jurnalistului, Cooperativa Urbană, Societatesicultura.ro, KoolHunt.ro, CineFan.ro, BlogdeCinema.ro, PoliticALL, All about Romanian Cinema.